Shift -Senior Service Designer
Shift is looking for an experienced service designer to lead the design of new products and services that help prevent issues like mental illness, obesity and climate change.
Shift is a social enterprise based in London and San Francisco that designs products and builds ventures to help solve social problems. We have worked on issues such as mental health, social isolation and obesity, and created ventures such as BfB Labs, Historypin and Good to Go.
To find out more about Shift, visit www.shiftdesign.org.uk.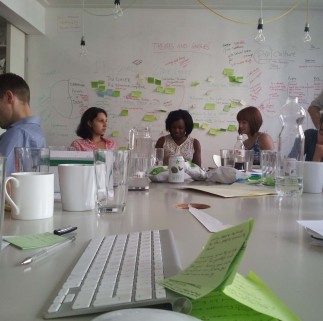 Shift is looking for an experienced and creative Senior Service Designer to join the team and play a central role in the design and development of new Shift ventures.
Over the next two years, we will be working on a series of new products and high quality service design will be at the heart of their ability to deliver impact, meet user and customer needs and grow via sustainable business models.
Our new Senior Service Designer will focus initially on two major projects:
Improving the healthiness of fast food – we will develop and establish a new service to help transform the impact of fast food on health in low income communities.
Historypin social isolation product – we are developing a new local and personal storytelling product that aims to prevent and reduce social isolation amongst older people.
Our Senior Service Designer will work with product teams within Shift and within our ventures to deliver a series of design, development and testing cycles and take these products to market. They will apply human-centred design principles to ensure that the experiences at the heart of these products are loved by users, effective in achieving their social objectives and meet the needs of customers and commissioners.
This designer will be experienced in and excited about:
Designing experiences that drive positive behaviour change while fulfilling the immediate needs of users
Planning and delivering human centred design research
Conducting user observation, interviews and other ethnographic methods
Gathering and synthesising insights simple frameworks, such as storyboards, personas and service journeys
Framing innovation opportunities based on the theories of change and market research that have emerged from foundational research
Developing initial concepts through sketches and storyboards
Developing and implementing service touch points (print, online, physical) in collaboration with other disciplines across Shift, such as brand development, product design and business planning
Integrating impact measurement and data collection into user experiences
Collaborating with user interface or product design teams and product managers to maintain service design intent throughout the development process
Essential experience will include:
5 years in a Service Design role
Bachelor's degree that includes modules in Service Design, Psychology, UX/UI or other relevant fields
Graphics / illustration capability
Excellent communication and interpersonal skills
Desirable experience will include:
A track record of working in teams that have taken successful consumer products to market
Delivery of projects relating to older people or the food environment
Experience working on digital products and services
Familiar with working in a startup or social business environment
If you are interested in the role, please submit CV and a cover letter of no more than two sides of A4, explaining why you are interested in the role and why you are best placed for the job by 5pm on Friday 22nd July to sean.noonan@shiftdesign.org.uk
Interviews will take place in late July.
---
Are you interested?
Apply