Chapter events -

Taiwan
We will co-create a breakfast revival party on site with local community through SD, aiming to detonate food revolution within communities along with friends who are interested in this activity.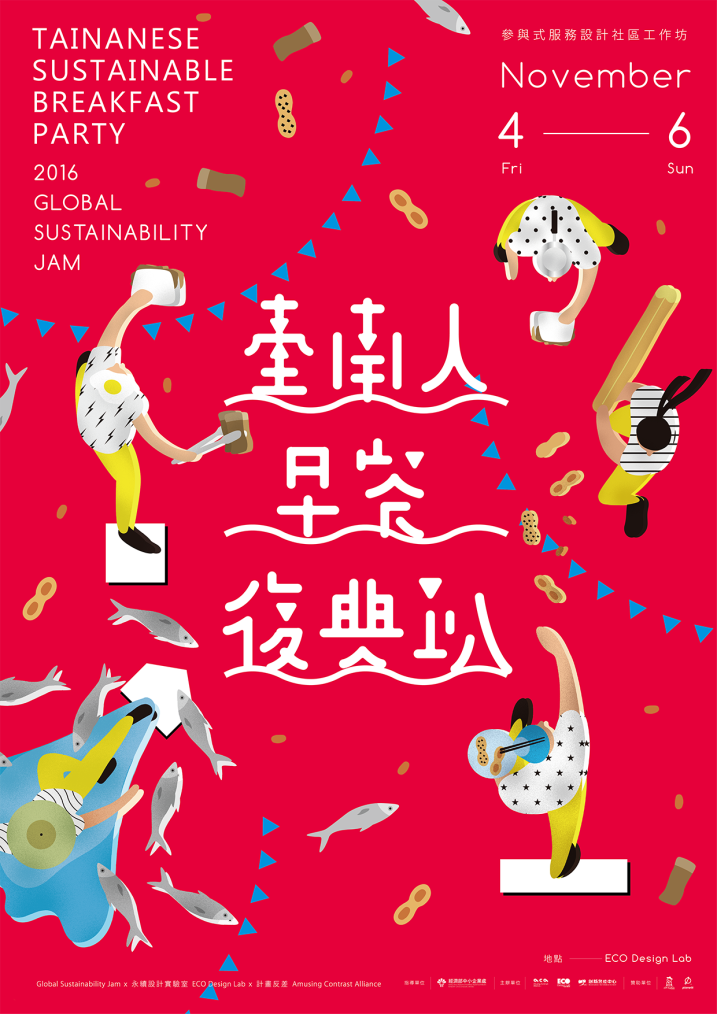 "The act of eating is very political. You buy from the right people, you support the right network of farmers and suppliers who care about the land and what they put in the food." ~Alice Waters, 1996
There are lots of breakfast opportunities in Tainan not limited to the familiar breakfast stores we visit
The morning in Tainan is full of fresh and vibrant traditional markets, including eco-friendly shops and the accessibility of fresh local ingredients at nearby cities. There are also farmers' markets and bazaars on the weekends. We believe that mornings in Tainan are not confined to choosing and consuming what we eat, but also about the essentials of leftovers to food cherishing, food awaiting to food sharing, and eating reprocessed food. How can we jointly design a good sustainable diet system with breakfast and food suppliers of the community?
aca has been concerned about the issue of design research and education, focusing on the development of gamification on this series of service design curriculums, while EDL has been committed to the professional planning of environmental friendly and catering culture business on the issue of sustainable development. In this activity, Jinxue Village is taken as the research base by EDL to emphasize on food culture of Tainan by initially understanding the community service system. The goals of Participatory Services Design Community Workshop are establishing the service design thinking and culture, learning to excavate personal and team development opportunities from the theme. Moreover, we hope participants can explore the service contexts within the city, and jointly produce a service design experience prototype for effective testing and examination. Finally, a design proposal will be made within 48 hours and the results will be published on GSJ platform in worldwide synchronization.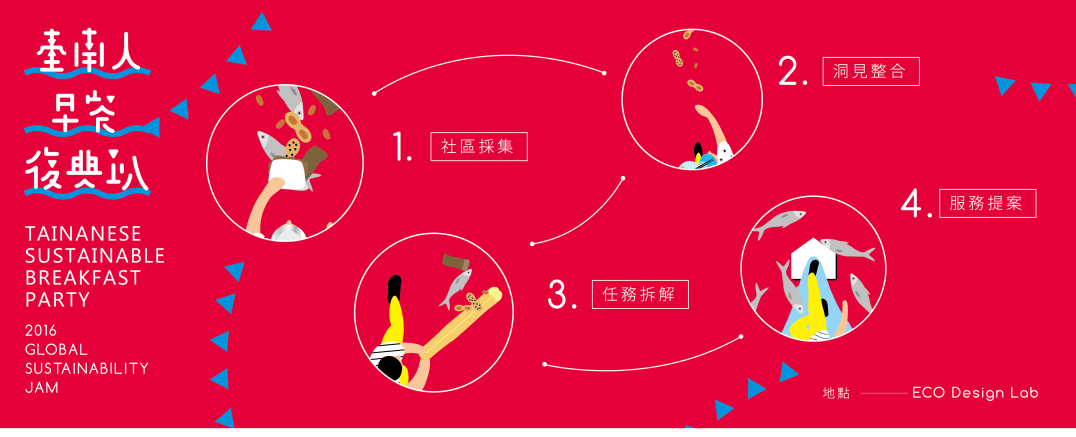 The workshop emphasizes the process, system and teaching aid design to 
create a situated experience of open-world game learning
The contribution, reward and feedback of each member of the workshop are equally important for enriching the activity. One week before the workshop starts, we will group the team members according to their 
characteristics 
and distribute them with a mission package. Each team must finish the mission before the workshop starts and complete their group discussions on our Facebook page. To facilitate communication and contact, the information of this activity will be published on Facebook page in a unified manner, and Facebook is used to convey private messages with the trainees to initiate the team mission.

Part of 2016 Global Sustainability jam The workshop links to Global Service jam in February 2017, and will set up a Sustainable Design Lab during 11/4 ~ 11/6 as an exploration base to establish a meaningful relationship with the residents at Jinxue Village; thereby redesigning Tainan's breakfast ceremony and service experience. The 2016 GSJ will be basically used to develop the design concepts after being comprehensively evaluated by the team. One concept will then be selected to initiate the breakfast revival party on the spot of EDL event, and villagers will be invited to join the activity to perform a rapid testing and practical amendments

Amusing Contrast Alliance 計畫反差

-

Co-Organizer
A group of young, uninhibited souls of free creators are living together in Taiwan's oldest city in a planned way. The domestic and international communities, and hardware/software resources of planett managed by aca, as well as four free designers of different backgrounds are forming an alliance with the community of different fields and cultural creators based on the project needs. As we believe that the contrast of interesting and happiness among people are nutrients for creation, so we would like to create from playing. We offer brokerage services by focusing on service design thinking to link with brand planning, marketing curating, designing, and freedom of creation. Besides undertaking the entrusted design cases and service design workshops, aca also plans projects independently by inviting creators with similar thoughts of making Tainan a better place to jointly plan and implement activities through an alliance approach.

Eco Design Lab 永續設計實驗室

-

Co-Organizer
EDL was jointly founded by three partners of different fields. They choose old houses hidden in the city for more than 40 years as their base to portray a continuum of life through a series of design and experimental projects. Sustainable design is a cross-domain point of view, regardless whether from diet, clothing, construction, transportation, products, culture, services, etc. It is thought from an environment point of view by taking personal small steps to turn the designer into an action practitioner. We welcome expertise of all fields to join our sustainable experimental program.

HoHo Chen

-

Lecturer
Course Co-Creator of Amusing Contrast Alliance

IChih Fang

-

Lecturer
Food Designer of Eco Design Lab

ShuYu Wu

-

Mentor
Food Designer of Eco Design Lab; Founder of 1982 de glacée

YaHui Lin

-

Guest Lecturer
Co-Founder of Eco Design Lab

YunCheng Chen

-

Supervisor/Mentor
Service Designer of Amusing Contrast Alliance; Co-Founder of planett