En los últimos años la innovación ha tenido un crecimiento exponencial en Chile y mucho esto debido a programas con el de Startup Chile lo que ha posicionado al país como un Hub de innovación. Una de las metodologías de innovación basadas en el Diseño más importantes es el Diseño de Servicios. Además, comprobamos que tanto en Chile como en el mundo más del 70% de lo que se transa en el mercado son Servicios y no productos por lo que se hace indispensable que la disciplina tome fuerza y se desarrolle dentro del ámbito local.
In Chile, we have a great development in innovation since StartUp 
Chile and it has became an important innovation hub worldwide. Moreover, we see service design as what the industries need because more than 70% of what 
Chile produces are depending on services; and that everyone should have the 
possibility of improving their lives through service design esp. in Chile.
"Queremos promover la disciplina del Diseño de Servicios y conectar a toda la comunidad en Chile, ya sea desde el mundo académico, público y privado."
We aim to bring
 people and workshops in Chile and to spread the word in this regard. 
Also, to connect people and companies that are involved in design 
thinking and service design. The idea is to connect, to start discussions 
and activities in any industry such as universities, companies,
 government, and people around service design; and finally to create a real community
 to start improving people's lives.
Thank you!
SDN Chile Team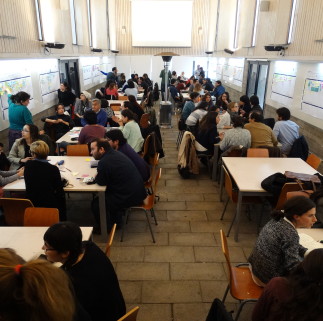 link

-

Chapter of SDN Chile/ Industrial Designer
Design Thinker y Chef de innovación. Emprendedor, Consultor y Académico. Fue Consultor y Coach de Design Thinking para Masisa S.A. a nivel Latinoamericano por 4 años. Profesor y tutor para iCubo, el Instituto de Innovación de la Universidad del Desarrollo. 10 años de experiencia en Design Thinking y Diseño de Servicios. Es Representante en Chile del Service Design Network, comunidad mundial que reúne a las empresas, organizaciones y personas del mundo del diseño de servicios en el área académica, pública y privada. Es organizador y host del Global Jam Santiago, eventos mundiales de innovación de alto impacto en torno a metodologías ágiles.

Felipe Montegu

-

Brand Experience Director
Felipe Montegu es Arquitecto de la Pontificia Universidad Católica de Chile. Vivió 4 años en Amberes, Bélgica, trabajando en "Conix Architects". Hace 5 años trabaja en Service Design a cargo del área en Magialiquid. En Enero del 2010 comenzó el desarrollo del área de Brand Experience, con el fin de llevar una marca desde de su estratégia a su expresión en la experiencia de los usuarios. Adquirió sus conocimientos de la disciplina en la Design thinkers academy de Amsterdam y en la escuela de diseño de Colonia, Alemania. Actualmente desarrolla proyectos de service Design para Volvo, CorpBanca, en el área de salud para Clínica Las condes, y en el área de Retail.