FAQ about the Service Design Global Conference: General | Tickets | Speakers | Volunteers | Partners
General
What is SDGC?
SDGC is short for Service Design Global Conference which is hosted by SDN annually – the Service Design Network. Being held since 2007 and meanwhile attracting more than 800 thinkers, doers and leaders SDGC is the premier conference for service design. 2 full day conference, plus special pre-events on the day before 1 year to keep the truly international spirit we are moving to another inspiring country and host city every year. Every year the location fo SDGC changes with the dates. But it's usually held during the season of autumn around September- November. To stay up-to-date please follow our social media channels or keep an eye open for the publication of the conference webpage as soon as date and location for the next gathering are set!
In 2018 SDGC is held October 11-12, 2018 in Dublin, Ireland, with pre-conference events starting October 10.
Who is SDGC for?
At SDGC we are trying to keep different levels of content available – from beginners to experienced service design practitioners. Nevertheless, all SDG conferences revolve around "Service Design". Everyone, no matter from which industry, from the private or public sector, design agency or university, if professional or student, basically everyone who is interested in service design and above 18 is welcome to purchase a ticket and join our global community.
Which language is SDGC held in?
Even though SDGC is moving around the globe and is an international event with a vivid spirit based on the many nationalities joining, we, unfortunately, can not respect all different language coming with those. This is why all talks, presentations and workshops will be held in English to make them accessible to as many people as possible. We do not offer any translation services.
How does the SDGC program look like?
SDGC is all about service design. With an annually changing theme, we are trying to adjust the content to recent developments and current trends within the discipline. The annual theme is published and explained on the SDGC webpage.
In 2018 we want to explore how to move from service design methods and tools to delivery, management, measurement, and other emerging topics. With 'Designing to Deliver' as the 2018 theme we are focusing on how to ensure the design of the service is what gets delivered and makes a real impact in the world; how to move quickly from insight to execution to achieve meaningful and measurable results, whether you are in the private or public sector.
Generally speaking, SDGC consists of main stage talks in our auditorium – with seats available for all attendees – and additional breakout sessions. In those breakout sessions, we are offering a number of workshops and talks for a smaller audience. Please note seats for the available workshops are limited to ensure the quality of these intensive sessions. Registration for the workshops will be available during the SDGC ticketing process, or in case you are buying your ticketing before we finalized the program, later on in your ticketing account. In this case, you will be notified by email as soon as registrations are open. These registrations are solely first come, first serve basis.
The rough framework of SDGC is shown below. Please note the timeslots are only aiming to give you an idea of the overall structure. Each year we carefully select the speakers and workshop facilitators to assemble the final program. As soon as we are convinced to provide the best content and most fitting structure to our theme we are publishing the final program on the SDCG webpage. So please bear with us and be sure we are giving our best to publish the program as soon as possible.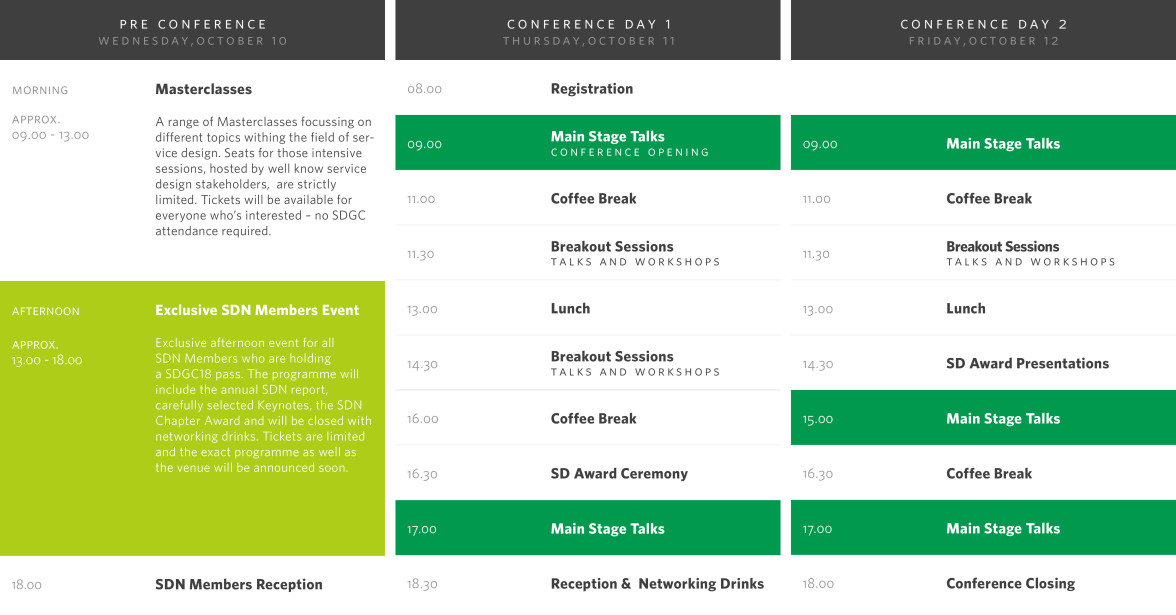 Where is SDGC taking place?
We try to live the global spirit of the service design community and be accessible to as many regions of the world as possible by moving to another country and city every year. SDN's chapters are annually called to apply as the host city for SDGC. After our event board evaluates all application we make sure to find a beautiful and inspiring venue in the chosen country and city.
In 2018 we will gather at the Convention Center Dublin, Ireland. For more information on our venue, how to get there and what to do and where to stay in Dublin visit the SDGC venue page. And remember: Ireland may use a different type of plugs and sockets than your home country! ­
Does SDGC include catering?
Catering during the two conference days includes soft drinks, coffee and tea, a buffet during lunch break and snacks during the coffee breaks. And be sure some surprises and local specialities are waiting for you during our famous SDGC reception at the end of conference day one. In case you do have any special dietary requirements we will do our best to consider those in the planning of our catering – You can let us know about such during the registration process.
Will there be Wifi available?­­
Of course, we will offer Wifi at the main conference locations ­– the Members Event location as well as the main conference venue. But please note the Wifi at conference reception venue may not be possible given the local conditions, but we will try our best to do so.
Can my kids join SDGC?
We do understand that service design is a very interesting topic that even our juniors should have a chance to get in touch with. But unfortunately, we can not offer any childcare on site. In case you cannot find anyone to take care of your youngest during the conference please contact us and we will try to find a solution that makes us all happy.
What is the SDGC code of conduct?
The Service Design Global Conference is a nice and friendly place where we want all of you to feel safe and welcome, regardless of gender identity and expression, age, sexual orientation, disability, physical appearance, body size, race, ethnicity, religion (or lack thereof). Even though we know that none of this is probably new to you, we just want to make it very clear that no form of harassment or bullying is accepted at SDGC or any of our side events. This goes for everyone at the conference, from participants to speakers, organizers, volunteers and partners.
In the case that you feel that anyone is crossing any boundaries (towards yourself or others), please contact a member of our conference staff.
Tickets
How can I buy a ticket for SDGC?
As soon as SDGC tickets are online you can find all available options on the SDGC ticketing page. You do not need to be an SDN Member to join SDGC, however being one will give you a great discount on the regular ticket rate.
Simply select the applicable ticket category, fill in your details in the registration form and select the payment method you want to use. Once the payment is successful you will receive a confirmation including the login details for your personal ticketing profile.
Make sure to pick up your conference badge from our registration desk as soon as you arrive at SDGC to get access to all conference venues.
Please note: Application procedures for special rate tickets – e.g students or public sector organizations – may apply. For further information please also read our Terms & Conditions.
What kind of passes are available?
Generally, SDN offers tickets for SDN Members, Non-Members and special audiences, such as students, public sector organizations or press. For those who are not SDN members yet, we do offer special rate packs, including an SDGC ticket as well a one-year SDN Membership. All available ticket types and all included benefits are listed on the SDGC ticketing page.
SDN Member Tickets: If you are an SDN Member (Professional Member, Student Member, Corporate and Academic Members) with a valid membership in the month of the Service Design Global Conference you are eligible for the discounted Member tickets as per your membership category (Professional Member, Student Member, Corporate and Academic Members). You can check the expiry date of your membership in your member's profile. Please note: If you are holding a free Community Membership regular prices apply. To buy a Member Ticket you will need to enter your personalized Members Code. Those discount codes will be dispatched via e-mail prior to the ticket sales starting. In case SDGC tickets are online and you did not receive your member code please also check your spam folder.
SDN Membership Renewal Packs: If you are an SDN Member with a membership expiring before the month of the conference the above-mentioned discount is not applicable to your membership. You can check the expiry date of your membership in your member's profile. In this case, you do have the option to buy an SDN Membership Renewal Pack including the renewal of your SDN Membership – for one year from the day of regular expiry – plus an SDGC ticket on a special rate. This pack is available to all SDN Membership types: Professional, Students, Corporate and Academic.
To purchase an Early Renewal Pack you will need to enter your personalized Renewal Code. Those discount codes will be dispatched by e-mail prior to the ticket sales starting. In case SDGC tickets are online and you did not receive your code please also check your spam folder.
Please note: If you are a student please send us your current student certificate/certificate of enrollment via the provided application button on our ticketing page. Afterwards, we will provide you with the respective student code.
Non-Member Tickets and Packs: You do not need to be an SDN member to attend SDGC. We do offer regular tickets for professionals and students too. But in case you would like to join the network this is your chance to get off our membership packs – available for students, professionals and corporates – including a one-year SDN membership as well as an SDGC ticket on a special discounted rate.
Special Audiences: Besides all regular priced tickets SDN is offering special rate tickets to the following audiences
Public Sector: For everyone working in a public sector organization SDN is offering discounted tickets. If you are working in the public sector and would like to attend SDGC simply apply for one of the discounted tickets on our ticketing page. The 'apply now' button will open an e-mail to the SDGC team. By explaining some details about the organization you are working for it will be easier for us to understand and check if we can consider you for a discounted ticket. In case your application is approved you will receive the respective discount code as well as the link to a special registration page to buy your ticket. To ensure as many public sector organizations as possible can benefit from this discount each organization is allowed to buy a maximum of 5 tickets.
Press: You are working for any press agency, blog or are a self-employed journalist and would like to report on SDGC? We are delighted to hear from you. Please visit our press page to download our media kit and apply for an SDGC press pass. Or directly in contact with the SDGC team via press@service-design-network.org to discuss the available option.
PhD Candidates: Please note that SDN does not consider PhD candidates for the above-mentioned student discount. Instead, please select the professional ticket.
Which payment methods are available?
Payment is generally available through Paypal and Invoice. Depending on the country you are living in Paypal offers the option to pay via credit card or, in case you do have a Paypal account, with your Paypal credit. Please note, in some countries, it is required to set up a Paypal account to process the payment via credit card. If you choose invoice at the checkout we will send you the invoice to your provided e-mail address. You should place your payment within 14 days after receiving to ensure your SDGC ticket.
Where can I find a receipt for my payment?
You will receive an invoice/receipt right upon successful payment. In case you have paid and didn't receive such e-mail do not hesitate to contact us.
Can I order my ticket now and pay for it later?
Choose 'invoice' as the payment option and you will have 14 days to place the payment. Please note that we can not reserve any tickets.
Which discounts are available?
SDN offers special rate tickets to certain audiences. All SDN members should have received their discount codes via e-mail. If you are an SDN Member and didn't receive your code, please also check your spam folder or contact us. In case you are a student or journalist or you do work for a public sector organization special rates are available to you. Please visit our ticketing page and apply via the respective buttons.
I am an SDN (Community) Member but did not receive my member code
Only paying SDN members are entitled to receive a discount on the SDGC tickets. All SDN members should have received their discount codes via e-mail. In case you are an SDN Member and didn't receive the code, please also check your spam folder or contact us. If you are a community member please choose the professional ticket or take the chance to buy a pack and become a full SDN member.
How can I buy tickets for my whole team?
We are glad to hear you want to bring your whole team to SDGC. To do so you do have two options: Either you choose to buy multiple professional tickets or go for the Corporate Pack which includes a 1-year SDN corporate membership, including 5 member accounts, plus 5 SDGC tickets. Either way, we suggest you keep the basic information about your colleagues handy while booking the tickets since it is mandatory to fill in those details correctly before you proceed to pay.
I have completed my registration but I didn't receive the confirmation email?
Please check your spam folder as our e-mails sometimes get marked as spam. In case you cannot find any e-mails by SDN, please contact us.
Can I change the name of my ticket / transfer my ticket to someone else?
Yes, up until one week prior the official start of SDGC you may transfer your ticket to a third party. The third party must have the same status as you do and hypothetically must be able to choose the same type of ticket if he or she wanted to buy a ticket himself or herself. For example, an SDN Student-Member-Ticket can only be transferred to another SDN Student-Member with a valid student-ID. In case you want to transfer your ticket to someone else, please contact us.
I am not able to attend the conference. Can I get a refund?
In terms you are unable to attend SDGC, it is necessary to contact us and inform our employees about these circumstances by no later than 30 days prior to the official start of the event. A cancellation fee of 70 % of the paid ticket price will apply. In terms you contact us and inform our employees about these circumstances less than 30 days prior to the official start of the event, no refund will be payable. Please consider that you may have the option to transfer your ticket to a third-party (for more information please also read our T&C's). In case you booked an early bird-ticket no refund is possible.

Can I share my ticket with a colleague?
No, sharing your badge in between or during the day is not allowed.
Can I get an invitation letter for my visa?
Please send us an e-mail to conference@service-design-network.org to ask for the documentation, including the following information: Full name, date and place of birth and your passport number + date and place of issue. Please note: You must already pay the ticket amount for us to issue an invitation letter.
Are there 1 day passes available?
At the moment SDN is not planning to provide any 1 day passes. In case we will change our mind we will notify the world via social media and our newsletter. But who would want to miss day two after so many inspiring talks and meeting so many exciting people anyways?
You can subscribe to our Conference newsletter on our latest conference page.
How long are SDGC tickets available? Can I buy a ticket on site?
SDGC always sell out a few weeks in advance. This is why we do not offer on-site tickets. So please don't wait too long for ordering your ticket if you are sure you want to participate.
How can I sign up for a workshop during the breakout sessions?
Generally, you can sign up for any workshops or other side events in your ticketing account. In case you registered before the programme was launched, you will receive a notification as soon as registrations for the SDGC breakout sessions are open. Otherwise, you will select your workshops during the ticketing process. You can always go back to your profile to change your choice, but please note that workshops seats are strictly limited and are typically booked out early.
Become a part of SDGC
Just attending the conference to listen to inspiring talks, participate in intensive workshop sessions and network with the service design community isn't enough?
Become a volunteer
Every year the SDGC team accepts applications for a limited amount of volunteer positions. As an SDGC volunteer, you have the chance to participate in the leading service design conference and get to know how everything is rolling behind the scenes. Tasks include the registration and guidance the SDGC attendees, facilitating special events, assistance in setup … Every enrolled student can apply. If you are interested in volunteering at SDGC please keep following our social media channels for the call deadlines we can only accept applications during this period.
Call for Volunteers for SDGC18 are open, please apply here, the deadline for the submissions is 30th June we can only accept applications during this period.
Become an SDGC speaker or workshop facilitator
The heart of SDGC is its speakers and workshop facilitators. Do you have a story to tell and insights to share? Then keep your eyes open for the call for speakers and submit your proposal. You can find more information on the SDGC call for speakers page.
Call for SDGC18 speakers is open For the 11th edition, which is to be held in Ireland's beautiful capital, we are looking for inspiring people to share their insights on how to move from service design methods and tools to delivery, management, measurement, and other emerging topics. Do you have a story to tell about how you moved from insights to execution quickly and achieved meaningful results? How you ensured that the designed service is what is getting delivered and is making a real impact on the world? Then submit your proposal for a talk or workshop (or any other innovative format) not later than June 15. The selection process will go on till July 13.
Become a partner
We are glad you are interested in partnering with us as we are always looking for inspiring partners from all around the world to make SDGC an even more vibrant experience. Simply take a look at our partnering page and download our partnering brochure to get all information about available sponsoring options. And in case you have any other partnering idea: Just contact us
I did not find the answer to my questions
In case we couldn't answer your question with the information listed above please don't hesitate to contact us at conference@service-design-network.org. But please bear with us: Especially right before and after the conference, we are receiving a lot of requests. Nevertheless, we will give our best to answer your question within 24 hours (The SDN headquarter is based in Germany, so please also consider the different time zones)