Senior User Researcher
Experienced user researcher or service designer, keen to improve the lives of people with intimate healthcare needs? Come join the Front-end Innovation team at Coloplast, just north of Copenhagen!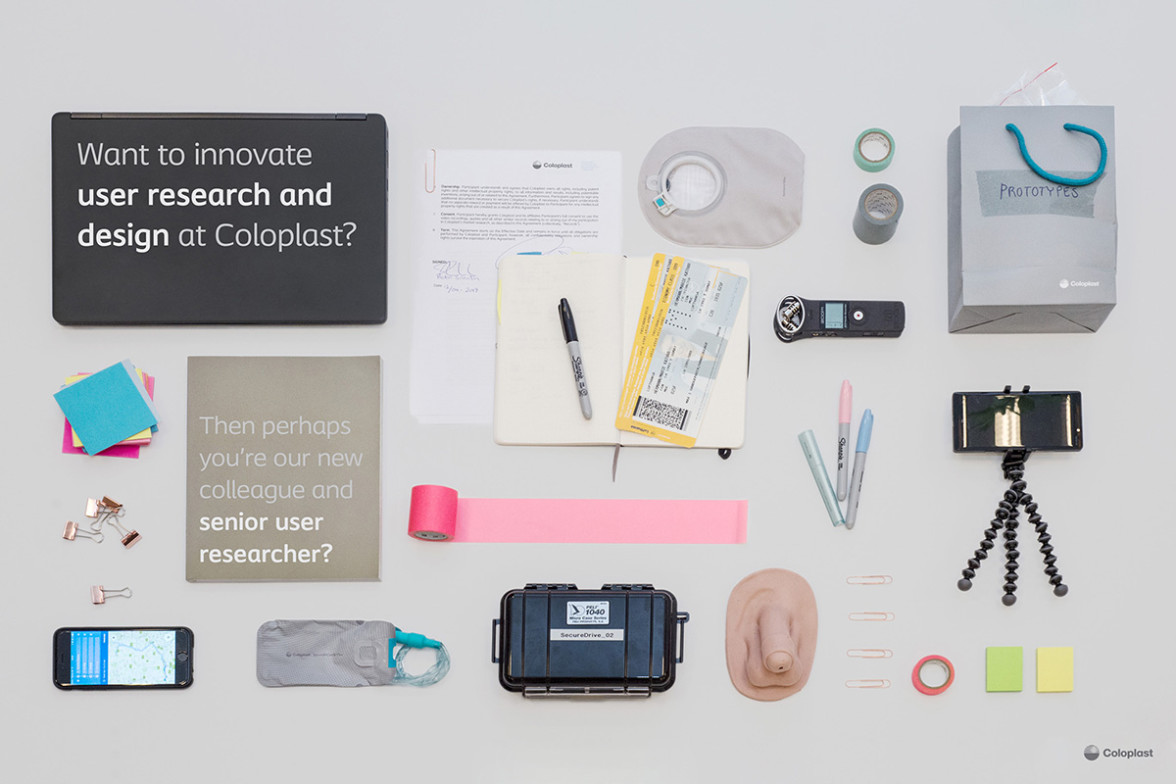 "You will be involved from the very beginning in scoping and shaping projects that will later involve hundreds of Coloplast colleagues and make a difference for thousands of users."
Are you an experienced user researcher full of energy and enthusiasm to improve the lives of people with intimate healthcare needs?
Our Front-End Innovation team is looking for a driven team member who brings along ideas and experience from previous user research or service design roles.
About the department
Front-End Innovation is part of Global R&D. Our task is to create the ideas for future products and services and mature them to become actual concepts that can be produced and commercialised. We anchor our product ideas in user insights, commercial opportunities, technology, processes and production expertise combined with ideation and prototyping.
You will join a team responsible for executing our ambitious Front-End Innovation pipeline of new products and services in close cooperation with the other teams in Global R&D, Global Marketing and Global Operations.
The job
We are a young team on a journey and you will be part of shaping where we go and how we get there. You help do this by leading the way and guiding others within the User Insight team, but also by taking a lead role on insight workstreams within projects.
Working in our team means that you are a great user researcher, as you will define, design, facilitate and synthesise user interactions. You know user research is a craft, not only when you are speaking to people. You will deliver actionable insight, shaped by your strategic outlook and understanding of the business context. You show the team how to connect the dots between lots of insight sources and how to navigate complexity to shape amazing user experiences.
You will travel internationally 15-25% of your time to meet users.
Your main activities will be to:
Lead a small user insight team on various projects – you will be the project manager, coordinating content, resources and activities.
Determine research objectives and, based on those, design user interactions. You will prepare research sessions by recruiting the right participants, planning the interactions and designing stimulus and tools to capture insight.
Moderate the conversation when we engage with users.
Lead the synthesis process to uncover insights and identify opportunities, making sense of everything that was said and observed in interviews. Hereafter develop compelling ways to communicate these insights and opportunities.
Develop processes, frameworks and tools to streamline our work and raise the bar of our function. You will also ensure that our insight is usable in the short and long term by editing, organising and managing files, archives and insight databases.
Mentor team members in all aspects of user research.
For qualifying candidates, there is the opportunity to take on a more formal leadership role – whilst also remaining very hands-on with the research work.
You will learn about our products and users on the job, but we expect you to hit the floor running taking the lead on user insight tasks for certain projects from day one.
The position is based in Humlebaek, half an hour north of Copenhagen, Denmark.
Qualifications
As our ideal candidate, you:
Graduated with a design degree (product / service / interaction)
Are a working professional with 5-12 years of prior experience in a user research or service design role in a design agency or in-house team where insight and design are closely collaborated. Additional working experience as an industrial, service or UX designer is a bonus.
Ideally also have proven mentoring or leadership experience.
Have a strong toolbox of user research skills, tools and techniques, and you have applied this in research for physical and/or digital products and services.
Are able to summarise ideas and observations clearly and concisely, communicating equally well in written and spoken English. Fluency in other languages, including Danish, is a bonus. Excellent storytelling skills are highly valued.
Are a clear and compelling visual communicator, who is proficient in Photoshop, InDesign and video editing software. Ideally you're also a competent photo/videographer who can help document product experiences in a professional way.
As a person, you are able to think both analytically and intuitively to uncover user needs. You identify opportunities from research data and create tools and presentations that help the team capture and communicate these user needs and insights.
You are a "people-person" who relishes any opportunity to understand others and you are eager to both teach others as well as learn yourself – an enthusiastic team player. You are structured by nature, but also flexible enough to adapt to changes 'on the fly'.
Need more information?
For more information contact the hiring manager Jeanne Marell, Fridays from 8.30 – 9.00 am DK time, on +45 4911 3244 (in English please)
Please apply in English and include a portfolio of your research work, clearly showcasing how you uncover and present insight, and integrate this into future experiences (PDF, 15 pages max.). Applications without work examples will not be considered.
Deadline
This position was posted on 8 August 2017 and may be online up to 10 weeks following this date. We will take candidates into the recruitment process continuously, so do not hesitate to apply. We will close the application process once we have found the right candidate.
---
Are you interested?
Apply