Principal Consultant / Senior Design Strategist
Do you love creating unique, world-class user experiences? Do you want to help customers meet the age of digitalisation head-on and prosper through digital disruption?
Together with our customers, we work to co-create the service businesses of the future. We want you to strengthen our forces.

Your job as Principal Consultant / Senior Design Strategist is located in Munich. It involves working closely with other designers, developers and business thinkers to create game-changing digital services. You'll work in a highly collaborative environment alongside our clients and their end customers to identify new service opportunities and take them from idea to launch and beyond. In addition, you'll also help our clients adopt new ways of working and culture to ensure they remain competitive and ahead of the curve in regards to the impact of digital disruption in their industry. You'll be a leading figure in our design team, playing a role in competence development and design mentorship.
What awaits you:
Creating digital services as part of an interdisciplinary team, together with our clients and end users
Leading and facilitation of new ways of working and Lean Service Creation (LSC) process for our clients
Interesting challenges across a wide variety of platforms and technologies
Sharing experiences and learnings with your colleagues
Constant learning and self-improvement through conferences and team events
Flat hierarchies and the opportunity to have your voice heard
What we expect:
10-15 years experience in related design field
Proven track record in developing successful new services
The ability to lead service strategy/digital vision for our client projects
Ability to plan and lead strategic activities, coach new ways of working and innovation process
Proven ability to engage new clients and proactively support large new business opportunities
Willingness to travel and lead international projects
Inspiring and motivational in their approach and behavior
The ability to lead and coach internal design competence development
The ability to mentor other Futurice designers
English language essential but other languages a benefit (especially German)
What we offer you:
We are a team of enthusiastic and ambitious people from 30 different countries that aim to create a caring and inclusive workplace. If you want to experience other cities you also have the opportunity to work at our other sites, through client projects or our FutuHike programme. Futurice also offers sponsorships for open source contributionsthat you do in your free time. And since you know best what tools you need, you get to pick your work laptop, smartphone, tablet or smartwatch.
Join us and become part of an international, highly transparent company culture with lots of exciting career opportunities!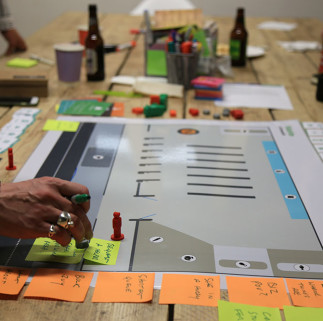 ---
Are you interested?
Apply