Chapter events -

United States
Service design in the US is rapidly becoming an internal capacity. The first national SDN conference will focus on how service design is evolving as an internal discipline within organizations of all types and sizes.
Service design in the US is trending internal. The first national Service Design Network conference will focus on how service design is evolving as an internal discipline within organizations of all types and sizes. Talks and workshops have been closely curated to illustrate many critical aspects of growing service design both within internal teams and external consulting. We believe our program will help established organizations, start-ups and entrepreneurs alike understand how service design can help them to serve their people better.
Our conference featured a curated set of stories and lessons learned from the people that are shaping and evolving the way organizations are practicing service design in the US market.
Doors Open on Thursday at 10am and 8:30am on Friday.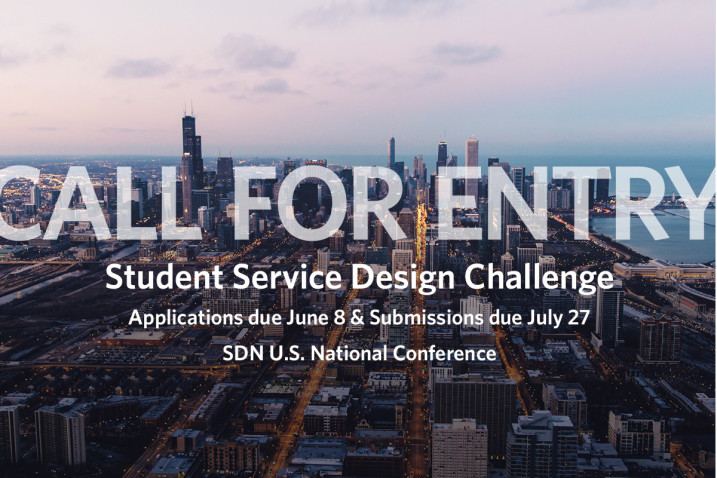 STUDENT SERVICE DESIGN CHALLENGE
Our theme for the first SDN U.S. National Conference, "Design Within US," explores how the field of service design has evolved in the United States. Service designers are gaining recognition for the emotional value they create for consumers and the economic value they create for organizations.
The evolution of service design as a field of practice brings together multiple types of stakeholders: from academic institutions that teach the philosophies and methods, to government organizations that encourage the use of these methods to serve the public, to for-profit companies that see service design as a way of creating stronger and more meaningful connections with their customers.
Given this context, we see the work of students and educators as a significant element of the service design ecosystem, and we want to showcase this type of work during the first SDN U.S. National Conference through a student competition.
APPLICATION REQUIREMENTS
To qualify for the student competition, applicants must meet the following criteria:
• Be enrolled in an undergraduate or graduate degree in design during the Spring 2017 semester. Note: the competition is open to students from all countries in the Americas, from the Canadian Arctic to the Southern tip of Chile.
• Showcase a service design project.
To apply, students must submit any of the following:
• A written application with a max. of 1,000 words,
• A PDF document, with a max. of 10 slides and 1,000 words, or
• A video or animation of two minutes or less in length
Every application must include:
• Name of the project
•Name of applicant(s). Note: applicants may be individuals or teams
• Name of the school, program, and course(s) in which the project was developed
• Name of the instructor
• Description of the identified problem/opportunity, and how it is addressed by your solution
• Visuals of the process followed and deliverables
• Description of how the project applies methods and principles from the field of service design
PRESENTATION FORMAT
Projects that are selected to be showcased at the first SDN U.S. Applicants are welcome to use their assigned space as they wish to showcase their projects. This includes but is not limited to showing video on screen, mounting posters, presenting prototypes, etc. Applicants must provide all the materials they need to showcase their projects, such as tables, foam core boards, computers and screens.
The winning project will be given five minutes on stage during the second day of the conference. Therefore, participants must be ready to present their projects in front of a large audience.
SCHEDULE
April 10th Applications open
June 8th (Thu.) Applications due by 11:59 p.m. CST
July 27th (Thu.) Submission in electronic format of materials to be showcased due to planning committee, 11:59 p.m. CST
August 9th Applicants set up their space
August 10th & 11th SDN student show. Each team (or single participant) will present their project on stage for five minutes
August 11th Winning project announced and showcased on the conference's main stage
JUDGING CRITERIA
• The proposed service, research project, or investigation integrates several touch points (beyond digital) to deliver an experience that takes into account customer, business, and service provider needs and desires.
• The team has taken into consideration the internal capabilities, structures, and revenue model required to execute the proposed solution successfully.
• Progression from loose intent to tangible prototype/blueprint/outcome using different service design methods. Show your process!
FOR ADDITIONAL INFORMATION and to submit your applications, please contact Andrea Fineman at andrea.fineman@capitalone.com

Aza Damood

-

Co-Organizer
SDN Washington DC & Lead, CX + Service Design, Booz Allen Hamilton

Andrea Fineman

-

Co-Organizer
Service Designer, Adaptive Path

Richard Ekelman

-

Conference Co-Chair
SDN Chicago Chapter & Co-Founder, The Service Experience Academy

Ruben Ocampo

-

Conference Co-Chair
SDN Chicago Chapter & Founder, Conic

Shelley Evenson

-

Speaker
Managing Director of Organizational Evolution, Fjord

Thomas Brandenburg

-

Conference Co-Chair
SDN Chicago Chapter & Service Designer, Sears HC
Programme
10 August - 11 August 2017
| | |
| --- | --- |
| 11:00 AM - 11:30 AM | Kickoff Talk by Shelley Evenson, Fjord |
| 11:30 AM - 12:00 PM | Talk 1 |
| 12:15 PM - 12:50 PM | Talk 2 |
| 02:00 PM - 03:00 PM | Keynote 1 |
| 03:30 PM - 04:30 PM | Panel discussion: Service Design in Government Moderated by Mauricio Manhaes, Ph.D. |
| 07:00 PM - 09:00 PM | Conference Networking Event |
| 09:45 AM - 10:20 AM | Service Design From the Inside Talk 1 |
| 10:30 AM - 11:05 AM | Service Design From the Inside Talk 2 |
| 01:00 PM - 02:00 PM | Panel Discussion: Bringing Service Design Internal Moderated by Linda Pulik |
| 03:00 PM - 04:00 PM | Closing Keynote |