Other Events -

Germany
Die 10. Service Design Konferenz in Madrid war überwältigend! Wir möchten die Türen unseres neuen Büros in Köln öffnen, um die gelungene SDGC17 zu zelebrieren.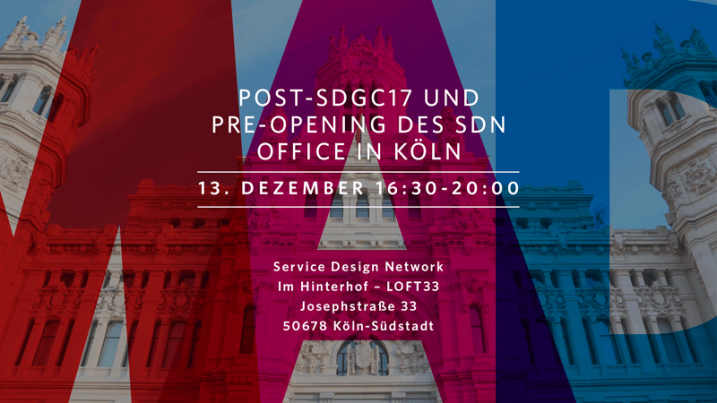 Bei der Veranstaltung werden wir zwei herausragende Konferenzvideos zeigen und freuen uns schon auf die anschließenden Diskussionen. Die Videos sind englischsprachig – bei der Diskussion werden wir bei Bedarf flexibel zweisprachig sein
Und nicht nur das! Wir wollen zudem die Vor-Einweihung unseres neuen Büros feiern und laden ein mit uns bei einigen spanischen Drinks und Tapas auf die neue und aufregende Reise anzustoßen.
Wann?
Am 13. Dezember von 17.00 Uhr bis 20.00 Uhr – ab 16.30 Uhr ist unser zukünftiger Event-Raum (noch vor der Renovierung!) geöffnet.
Wo?
Josephstr. 33 (im Hinterhof, LOFT33)
50678 Köln-Südstadt
Wir freuen uns auf Euch!
Es gibt nur 40 Plätze, also meldet Euch schnell an! SDN Members können sich kostenlos anmelden. Nicht-Mitglieder zahlen nur 30€ pro Person.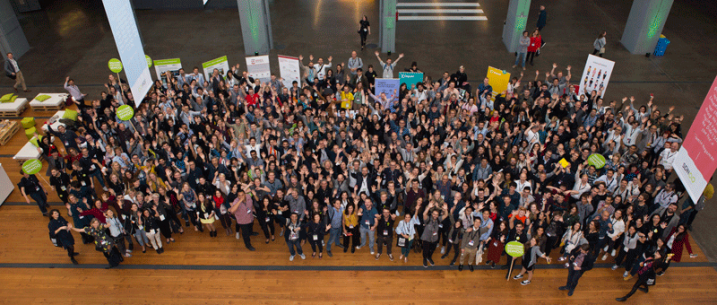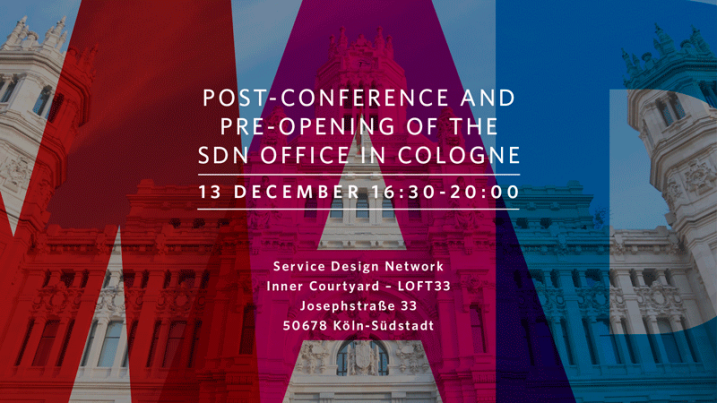 English:
Service Design Event: Post-SDGC17 and Pre-Opening of the SDN Office in Cologne
The 10th Service Design Conference SDGC17 in Madrid was overwhelming. We are opening the doors of our new office in Cologne to celebrate this success. We will share two outstanding conference videos and are looking forward to discussions. Videos will be shown in english – the following discussions will adapt to language preferences.
We will also celebrate the pre-opening of our new office space with some Spanish drinks and tapas to make everyone feel part of this incredible new journey.
When?
December 13th from 5 to 8 PM. The doors to our (not yet renovated) event space will open at 4:30 PM.
Location
Josephstraße 33 (inner courtyard, LOFT33)
50678 Köln-Südstadt
We look forward to seeing you there. We only have 40 seats – so register soon! Professional SDN members can register for free – community and non-members only pay €30 for this event.