Chapter events -

Finland
SDN Finland is hosting the next National Conference. We're excited to offer you different perspectives into the evolving role of service design. --- Vuoden päätapahtumamme tarjoaa uusia näkökulmia Palvelumuotoilun kehittyvä rooliin. Varmista paikkasi pian!
National Service Design Conference 2018 Helsinki #HKISDNC18
Date: 25.4.2018 at (8:30) 9 - 17
Venue: Aalto University's idyllic Töölö campus, in the heart of Helsinki.

Program: See our headline news for detailed programme


18.00 - Spring party @Hellon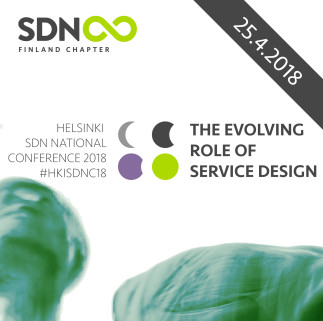 Please follow our Facebook event site for detailed info or connect with us on our Slack channel to be part of the discussions and the coverage around the event.
Language: English & Finnish
During the morning, the main language is English, in the afternoon, content both in English and Finnish
Please note that there are limited number of tickets available.
Members: please enter your promotional code to benefit of your member price. You can find your discount code on your personal dashboard.
Please share the info with your own networks! Let's get the word out and create a buzz. #hkisdnc18