Other Events -

Argentina
This June 1st we will celebrate the #ServiceDesignDay in Buenos Aires for the first time. For this new edition of the Service Design Drinks we wanted to choose a theme that would represent the impact of Service Design on our daily lives for all of us who live in Argentina, and what better example than in the design of public services.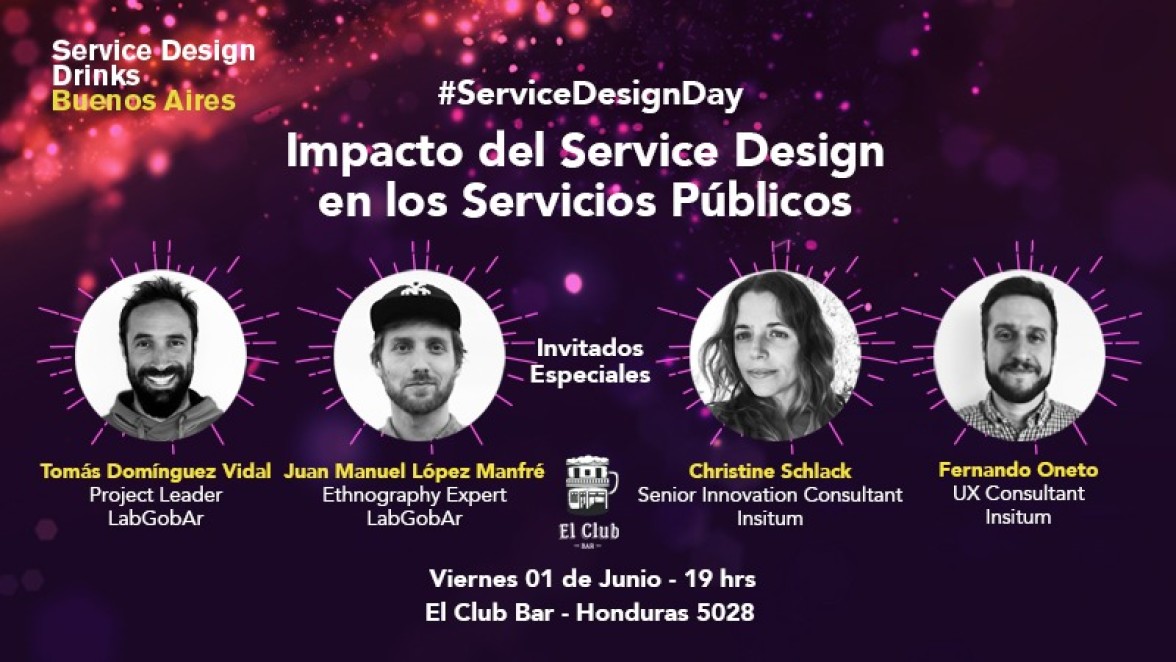 Christine Schlack

-

Innovation Consultant at INSITUM
Christine is Chilean and joined INSITUM Argentina as an Innovation Consultant. In Chile she studied Graphic Design and after two years, she traveled to Barcelona to pursue a Master in Product Development at ELISAVA. In 2015 she studied a Master's Degree in Innovation and Design Thinking at the Bau School of Design in Barcelona. After 3 years of living in Barcelona, she decided to move to Buenos Aires to continue solving new challenges through Design Thinking and Service Design.

Fernando Oneto

-

UX Consultant at INSITUM Argentina
Fernando is an Industrial Designer graduated from the UBA. He joined INSITUM Argentina at the beginning of 2017, and previously he was part of different institutions such as the INTI Industrial Design Center and the Ministry of Modernization, Innovation and Technology of the City of Buenos Aires. He is a speaker and author of different publications on user experience and ergonomics for products and spaces. In addition, he dedicated himself to assist companies to incorporate design management as a differential process to innovate in their products and services.
Juan Manuel Lopez Mafre

-

Etnography Expert at GovLab Argentina
Juan is an anthropologist and musician. He works in the Government Laboratory of Argentina promoting new ways of constructing evidence for the design of public policies and services. Member of the Body Anthropology team (UBA). As a musician he has a vast trajectory in the production of records, tours and concerts.

Tomas Dominguez Vidal

-

Project Lead at GovLab Argentina
Tomas works in the Government Laboratory of Argentina, promoting the look of design in the world of public policies and services. In his past life he made a corporate career in which he saw the birth of the CX area of DIRECTV, and had the opportunity to work in the Digital Innovation Lab that the company opened in Los Angeles. In the transition from the private world to the public, he had some failed ventures, and today he has the pleasure to facilitate workshops at Latio.